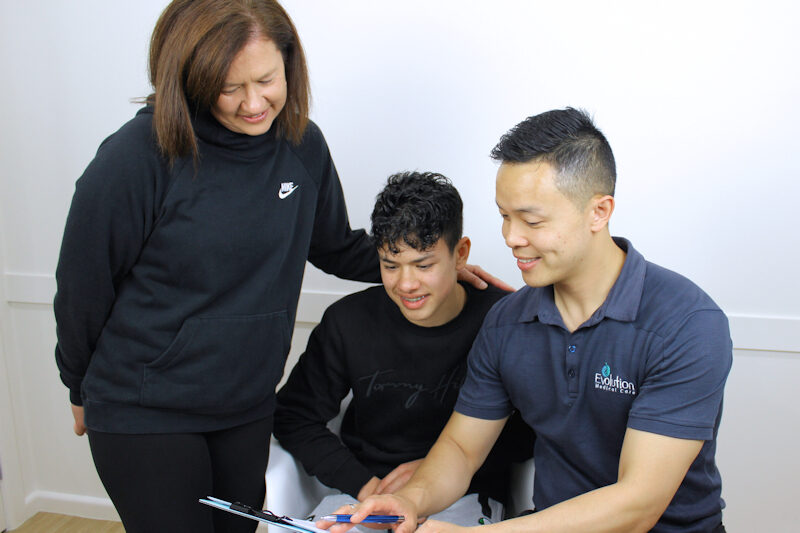 Frequently Asked Questions
We love being able to inform our patients and assist them throughout their health journey! We have gathered the most frequently asked questions and answered them just for you.
Before Treatment
Yes, you are welcome to bring up to one other person with you to your appointment should you wish to do so.
We recommend having a small meal or snack at least 1 hour prior to your treatment. This decreases the chances of feeling lightheaded during or after your treatment.
If you have had any diagnostic tests that relate to the injury or concern, please bring the results along with you. This could include X-Rays, MRI's, Blood Tests, or past surgery information. This information will be taken into consideration when assessing your overall health.
Wear loose clothing or clothing that is comfortable to remove if required for treatment.
During Treatment
As you enter our consult rooms, your practitioner will take time to find out how you have been travelling and discuss what the plan will be for today's session. From here, treatment will commence and the practitioner will allow you to rest and periodically check in throughout your treatment. Should you need assistance at any time during treatment, our clinic has a pager system in place, your practitioner is only a push of a button away.
Upon arrival at our clinic, we will ask you to fill out some paperwork to better understand what brings you in to see us. With your practitioner, you will have an in-depth consultation and assessment to diagnose the extent of your complaint. Next, they will present a personalised treatment plan outlining what treatments will be best to address your complaint as well as the frequency we would need to see you to achieve the best results. From here you will go on to receive treatment for the rest of your session.
There are two main positions clients are in during treatment. Lying face down or sitting up on our treatment beds. This is entirely dependent on what treatment is required for you to get you the best results. However, your practitioner will not do anything you are not comfortable with and will treat you accordingly as required.
This will be discussed with you at your Initial Appointment and will depend on your health concern. The practitioner will provide treatment that is personalised to you and can adjust it accordingly throughout your prescribed appointments.
For your Initial Appointment please allow 1 hour for both your consultation and treatment. For follow-up treatment sessions, we ask you to allow anywhere between 45 minutes up to 1 hour.
We have ample parking available either at or around our clinic. We have on-site parking with ample spaces, which can be accessed via O'Farrell Lane. Alternatively, there is free 1-hour parking available along both sides of Castlereagh Street.
After Treatment
Yes you can, ideally on alternate days. We recommend trying to avoid booking in multiple treatment therapies on the same day. Too many treatments on the same day can overstimulate your body. If it can't be avoided, once or twice should not be an issue.
Feeling great is a good sign that the treatment protocol is working for you. In most cases at the start, feeling great may only last a few days to a week. By following the treatment sessions prescribed for you, you will get the best health outcome possible. The last thing we would want is for your symptoms to relapse and for you to experience pain again by ceasing treatment prematurely.
The pain or symptoms you have been experiencing may change, whether that be the intensity or severity. It is common for your symptoms to be relieved for a few hours after your initial treatments. Our practitioners always prescribe more frequent treatment at the start of a treatment plan in order to build up momentum so that symptoms are relieved for longer and longer.
In some cases, you may notice a change in the way you feel almost immediately. In more significant cases however, it can take up to 3-4 days after treatment commences or multiple treatments at the start of your treatment plan to start feeling any kind of relief. It's best to always consult with your practitioner about how you are feeling.
It is possible to feel sore after treatment. Our treatments are used to stimulate the body to help it heal faster. It may cause symptoms to become more intense after a treatment session. In most cases, these symptoms mean that the treatment is working, and they are a necessary part of the healing process. Your practitioner will be able to guide you on your individual circumstances and adjust treatment if necessary as you progress.
Driving after your treatment is definitely safe. Occasionally you may feel slightly light-headed after treatment, but this will usually subside quickly. You are welcome to relax in our waiting room prior to leaving if this occurs.
We recommend you avoid strong physical exertion immediately after treatment unless your practitioner has advised otherwise.
Yes, this is normal. It is not uncommon that patients can feel lightheaded after their treatment session. This could be due to a drop in blood pressure or decreased blood sugar levels, which may be related to receiving treatment on an empty stomach.
General
At Evolution, we are proud to say we are a family friendly clinic that is able to cater to the needs of the whole family. Children are welcome to attend our clinic while their parents or guardians receive treatment.
However, whilst you receive treatment we do ask that your children be seated quietly and do not go around the clinic space unattended. We ask this so that we can ensure the safety of your children but also be considerate of the comfort and experience of other patients.
As mentioned above, children are also welcome to receive treatment at our clinic. Please understand it is our clinic's policy that a parent or guardian be present during the initial appointment & following treatment sessions of minors aged 18 years and under. Parental Consent can be provided for 17 years +.
Ideally, yes. At our clinic we do prefer our clients to make a booking. We are open to walk-ins but can only do so if a time slot is available.
You can make a booking by calling us on (02) 4709 6727 or through our online booking page.
Yes we do. Please contact our team for more information of what we may require to proceed with helping you with your claim.
Treatment is safe for individuals who are currently pregnant. Please be sure to let our practitioners know if you are. Rest assured, all our practitioners at our clinic have undergone extensive training in their related professions which includes delivering safe and effective treatments to pregnant women at all stages of pregnancy.
Yes, we have a HICAPS terminal in the clinic for processing health fund rebates on the spot.
A referral is not required to seek treatment at our clinic.
Better Health Care Is Our Mission
Same Day Appointments Are Available